« Older Entries
Thursday, November 8th, 2018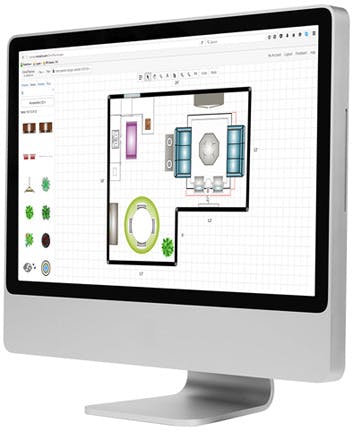 By BreeAnn Cook:
Inspired by your favorite HGTV show, you grab the sledge hammer and take a swing. A short time later the wall is gone and now nothing stands between you and the view from your kitchen to your family room. Now what? We all love the idea of an open floor plan, but the reality is that it comes  with a few challenges. Let's take a look at those issues and how to overcome them.
Without walls, placing your furniture can seem daunting. After all, they created boundaries and determined traffic patterns. Now you need to create these with furniture placement by floating it within the space. Start with your focal point and build around it, keeping in mind the function of the  space. If the focal point is the television, make sure that most of the seating has a good view. Then factor in the traffic patterns. Leave three feet for major traffic areas like exits routes or access to other rooms. Allow two feet for lesser used paths, like the entrance to a seating group. Complete the grouping by filling in the empty spaces with accent furnishings and additional seating. Perhaps a small accent chair near the fireplace that doesn't face the tv, but does provide extra seating when entertaining. A console table behind the sofa makes a more attractive entrance to an open floor plan than the back of a sofa.
Another issue is determining where the living room ends and the dining room begins. With open floor plans the rooms are not clearly defined. Use  area rugs and traffic patterns to define the different spaces. Placing an area rug under the dining table and under the sofa grouping sends a visual cue that this is a different area. Use architectural features to guide you. Center the rug under a chandelier or in front of the fireplace, then place furnishing appropriately. Make sure that you leave some transition space between the areas. This will require thoughtful selection of adequately sized  furnishings. Over- scaled furniture can crowd the space and encroach on the adjacent area.
Lastly, without walls, where do you hang artwork? This is a common problem, especially if you remodeled and were hoping to reuse existing artwork. Think outside the box. Consider using smaller artwork in bookcases, or even hang it on the bookcase. This requires a little more finesse, but the effect is quite striking. Layer art when you do have wall space. Whether its on the mantle or collage styling on the wall with overlapping frames, layering  adds depth and interest. It allows you tell a story with your favorite collected pieces.
Whether you are remodeling or moving into a new home with an open floor plan these tips can be helpful with your space planning challenges. Also, visit our website and try our room planning tool, where you can experiment with the floor plan before ever swinging that hammer.
Questions? Give us a call at 336-765-1360, or email us for more information at info@bowenfurniture.com.
Tags: furniture winston-salem, mattresses in winston-salem, recliners in winston-salem, solid wood furniture winston-salem, winston-salem furniture, winston-salem mattresses
Posted in Postings | Comments Off on Addressing the challenges on an open floor plan
Next Page »